Vietnam Finest Macadamia Nuts
Ong Ba Macadamia is proud to be one of the first brand in Vietnam to produce authentic vietnamese macadamia nuts that reach highest quality standard.
NUTS THAT BEGAN WITH A DREAM
Ong Ba was among the very first ones to have brought Macadamia to the Lam Vien Highland in Vietnam. Here gently grown the first seeds of high-quality, authentic and tasty Macadamia nuts.
Ong Ba Macadamia, collected from those very authentic farms in Lam Dong, was processed with advanced technologies and carefully packaged. The product is proud to reach the highest quality standard, local & international, and is hoped to serve more and more people around the world.
Bring the finest Macadamia of Vietnam to the local and international market.
Ensure the quality of the Macadamia plantation and seeds in the highlands
Support the Vietnamese Macadamia farmers with
– More advanced & efficient plantation methods.
– Funds & systematic farms.
– Become one of the leaders in the Macadamia market of Vietnam.
– Become a trustworthy friend of Vietnamese farmers who helps to bring them a better living standard.
– Bring Vietnam's Macadamia to the global market and stand a position in the global consumers' mind.
Ong Ba Macadamia is the result after years of diligence. As a pioneer who brought the first seeds to Vietnam, we are proud to serve our customer with the finest nuts from Vietnam's highlands.
The Premium Package is our biggest pride, with all nuts collected from our own farm in Lam Dong, which is also one of the very first farms to ever planted macadamia plants in Vietnam.
The nuts are at least 2 times bigger than the casual ones, specially roasted with our own technology, thus having stronger and better taste than any macadamia nuts you can find.
Since the Premium line's nuts can only be havested in a season that lasts 3 months every year, the quantity of our Premium Packages are limited. So buy now and give it a try before even we can not.
For every Holiday Season, we have Special Macadamia combos suiting your different needs as gifts in these lovely times.
Contact us should you have any request for our special combos, we would love to help you prepare the best gift possible for your precious ones.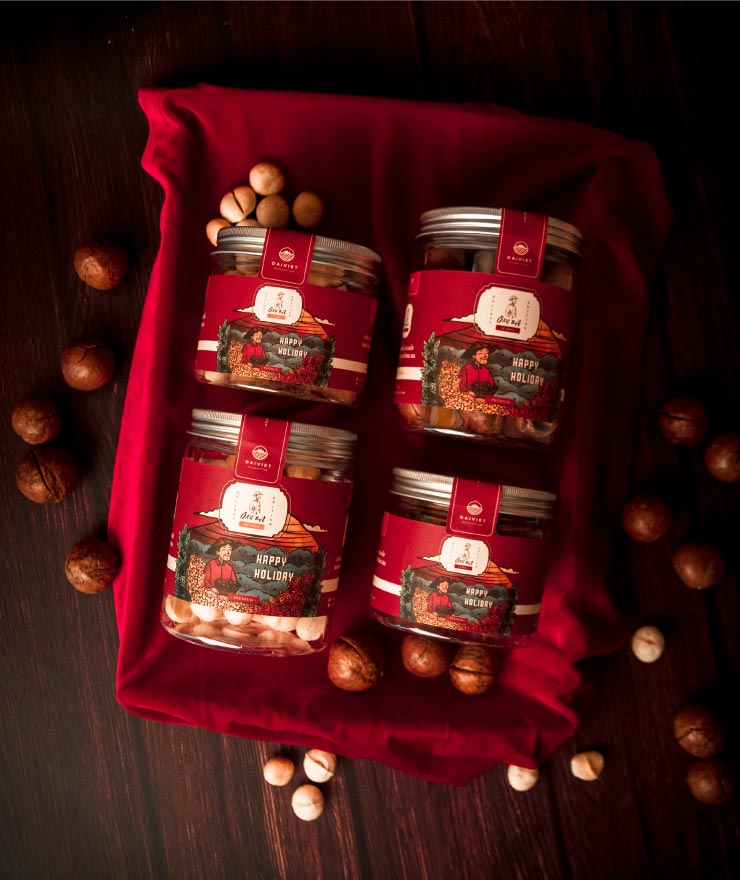 Magie được các chuyên gia đánh giá là một trong những chất ảnh hưởng trực tiếp và gián tiếp đến hệ miễn dịch. Magie là một chất dinh dưỡng không thể thiếu với cơ thể mỗi con người, nó cần thiết cho hơn 300 phản ứng hóa sinh của cơ thể, giúp duy trì chức
Read More...
Hạt Macadamia là một loại quả hạch có xuất xứ từ Australia với thành phần dinh dưỡng cao, vị thơm ngon. Hạt Macadamia mang đến nhiều lợi ích cho sức khỏe tim mạch, huyết áp, hệ tiêu hóa… Tuy nhiên, có một ưu điểm của loại hạt thần kỳ này mà ít người biết đến,
Read More...
More of what we are proud of